Governing transborder emergencies: GESTISCO project products
This is the concluding event for GESTISCO, an Interreg-Italy-Switzerland Co-operation Programme on safety throughout the region.
01/04/2020
Politecnico di Milano, Campus Leonardo, Edificio 20 - Via Ponzio 34/5, Milano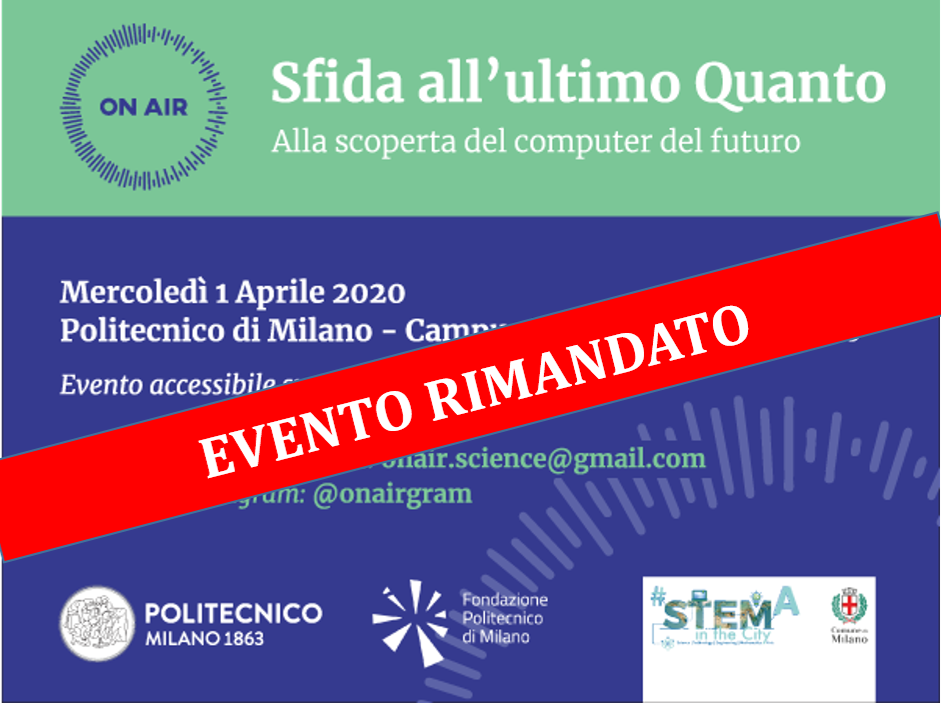 The event
L'evento è organizzato dall'associazione On Air, in collaborazione con il Politecnico di Milano e la Fondazione Politecnico di Milano, e si svolge nell'ambito dell'iniziativa STEMintheCity – Il Mese delle STEM del Comune di Milano.
The program
Sfida all'ultimo Quanto | Alla scoperta del computer del futuro si terrà mercoledì 1 aprile al Politecnico di Milano, dalle ore 9:00 alle ore 14:00. La visita dura un'ora. Durante il laboratorio gli studenti, guidati dai ricercatori del Politecnico di Milano, comprenderanno come la fisica e l'informatica, in apparenza diverse, siano capaci di fondersi per creare il computer di domani.
Per rimanere aggiornati sui prossimi eventi di On Air segui la pagina Instagram @onairgram.
How to join the event
Per partecipare è obbligatoria la prenotazione tramite email a: onair.science@gmail.com.