LEVER UP
Informal learning and multi-disciplinary skills for volunteering
September 2017
- November 2019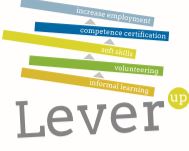 Informal learning and multi-disciplinary skills for volunteering, to improve employability, social responsibility and mobility among the city's population
THEMES
Culture & Human Capital
The initiative
Volunteering is a very special learning environment, where people have to manage a wide range of tasks and complex situations, which can have a significant impact on individual people, on the community and on the broader society. LEVER UP focuses on the soft and multi-disciplinary skills that people acquire informally, highlighting this skillset and taking care that it can be transferred to other professional, learning and social settings. Tracing the footsteps of a previous project, LEVER-UP develops the skillset model, aligning it to European frameworks and tools of reference such as EQF, EUROPASS and ECVET. It designs infrastructure and content for a validation service activated across Italy and in line with the criteria of quality shared with other countries, while setting the bases for a three-way interaction between the job market, VET (Vocational Education and Training) and the third sector.
The role of the Foundation
Fondazione Politecnico di Milano is the project lead partner
Technical details
LEVER UP draws on the legacy of the previous "LEVER" project (2014-2016), pursuing two main objectives:
Strengthen mutual trust, based upon a common model and tools to evaluate multi-disciplinary skills in total transparently, which can be transferred between VETs, the volunteering sector and the job market; Implement a dedicated service that can promote the entire system nationally and internationally.
Achieved results
LEVER UP model with an up-to-date standard of 15 skills and a revised toolkit of 37 resources for candidates, assessors, tutors and trainers
Mixed online and in-presence training for LEVER UP operators
Service centres to provide the training and validation pathways with mechanisms to award Open Badges that comply with VPL (Validation of Prior Learning) quality requirements
Multi-sector pilot tests with companies, volunteers and institutes of education and professional training
Over 350 certifications and 900 persons across Europe involved in training and validation services
Financial supporters