MADE4LO
A model of "scattered manufacturing" to develop 3D metal printing technologies, totally "made in Lombardy".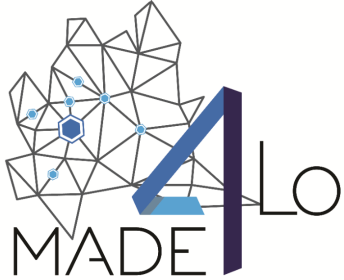 "MADE4LO is Lombardy's first foray into Industry 4.0 - Additive Manufacturing, where interconnected physical and digital systems exchange products and information through a scattered manufacturing network". Mario Bocciolone, Director of the Department of Mechanics at Politecnico di Milano.
The initiative
MADE4LO (Metal ADditivE for LOmbardy) came into being when a network of premium organisations based in Lombardy decided to share their skills, know-how and resources and manage the entire Additive Manufacturing production cycle. As an enabling technology, Additive Manufacturing (AM, also referred to as 3D Printing) is spearheading Industry 4.0. This technology can be used to produce complex objects (parts, components, semi-finished and finished products) by building them up layer upon layer. In contrast, traditional metal manufacturing involves removing material (metal turning and milling, for example). 3D printing allows greater production flexibility than in the past, with the freedom to work on complex projects in a shorter timescale, a smaller inventory and a simpler logistics chain. On top of this, a single component can be made if and when it is needed. MADE4LO is co-financed by POR-ERDF (Regional Operation Programme – European Regional Development Fund) and is developing an AM chain that covers all the stages from designing the metal powder, production and finishing, to the phase of qualification, and it also takes in economic and environmental sustainability. The initiative revolves around seven study cases that are leaders in the development of systems to produce metal powders and in 3D printing, simulation and monitoring, drawing on the expertise of system engineers, end users and research centres. Thirteen  partners worked together on the project: Politecnico di Milano with Fondazione Politecnico and the University of Pavia, a furnace and plant systems engineering company (Tenova), two systems engineering companies busy developing Laser Metal Deposition – LMD equipment and Selective Laser Melting – SLM equipment (BLM and 3D-NT), one provider of finishing systems (GF Machining Solutions) and four end users (GFM, Fubri, Lafranconi and Co.Stamp). This pilot project underpins the new "network" factory model, based upon distributed knowledge applied to new 3D printing operations and the processes and infrastructure shared among several supply chain subjects, as well as on intense training for technical staff specialised in additive technology.
The role of the Foundation
Fondazione Politecnico di Milano collaborated on the project
Technical details
MADE4LO – Metal ADditivE for LOmbardy – is expected to run over 30 months with an investment of 6.6 million euros, which includes a 3.5 million euro grant from Regione Lombardia (the regional government of Lombardy) – within the Research and Innovation Agreement – allocated through the European Regional Development Fund. The project is coordinated by Tenova, a company in the Techint Group specialised in innovative solutions for the metalworking and mining industry. Progress runs according to the roadmap for a regional technological cluster, known as AFL (Associazione Fabbrica Intelligente Lombardia – Smart Factory Association for Lombardy), and its Additive Manufacturing workgroup. This initiative fits into the framework of AFL, the technological cluster instigated by Regione Lombardia to develop a strategy based on research and innovation within the Italian manufacturing sector.
Achieved results
In little more than two years, MADE4LO has notched up two patents and redesigned two components for Selective Laser Melting production, one of which in pure copper, achieved through 3D-NT's green laser SLM 3D printing system and the University of Pavia's simulation work. In the area of Laser Metal Deposition (LMD), researchers at Politecnico di Milano's Department of Mechanics, in collaboration with Lafranconi, an end user, developed an innovative exhaust pipe in steel, produced using BLM Group's 3D printing Additube system. The challenge for the additive world was in the size and complex geometry of the part being made. The final item is 450 mm long and took twelve hours to print. The first batches of innovative powder were atomised through the joint effort of the lead partner Tenova and CMS – Rina. In May 2019, Tenova presented a furnace for the heat treatment of additive components. By the end of the year, we are expecting multi-material components, moulds made using hybrid additive/subtractive technology (Co.Stamp and GFM) and Fubri utensils in SLM workable steel, with GF investigating customised machining solutions.
Financial supporters